About Dr. Amiya Prasad – Super Specialist in Eyelift Surgery
As a leading specialist in practice for 16 years, Dr. Prasad represents a new paradigm in Cosmetic Surgery of the eyes and face.His background includes certification in Ophthalmology, Oculofacial Plastic Surgery, and Facial Cosmetic Surgery. A Diplomate of the American Board of Cosmetic Surgery in Facial Cosmetic Surgery, his training and certification far exceeds the board certification requirements of Plastic Surgery in his area of expertise. Dr. Prasad believes that individuals who are well-adjusted and comfortable with themselves have very specific cosmetic goals in mind. Dr. Prasad treats his clients with a realistic attitude about their own youthful preservation and pursue genuine beauty so that they will truly age gracefully.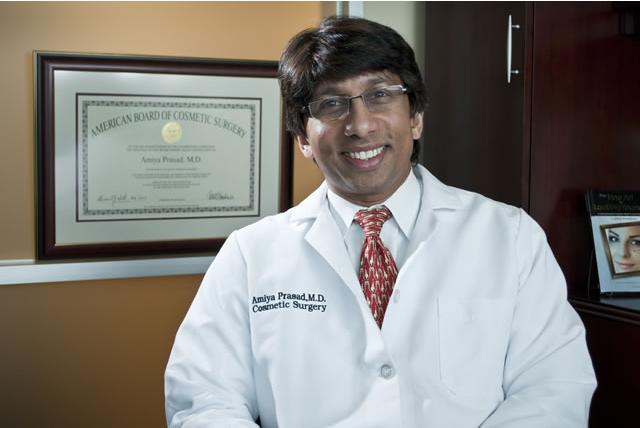 Dr. Amiya Prasad has offices in New York City and Garden City (Long Island).
Although eyelid surgery is one of the most popular cosmetic procedures, the results can be variable and unnatural in quality unless the procedures are performed well. Just think about celebrities who have had "bad plastic surgery" and you can appreciate that eyelid surgery is more complex than it appears. Dr. Prasad's supports that eyelift surgery should never drastically change your face. If people compliment you on your surgery, you probably had too much surgery. Your goal should be natural-appearing enhancement of your features rather than a whole new face. And it is my goal to provide you with the options you need to obtain the youthful appearance you want.
Helping patients look as young as they feel for over 15 years, balancing the latest non-invasive techniques with state-of-the-art laser and micro-surgical techniques allows Dr. Prasad's patients to enjoy a natural appearance with minimal downtime. He is devoted to providing each and every one of my patients the individualized care he or she deserves. Please take the time to learn more about me and my practice.
Schedule An Appointment Today!
To schedule a consultation with Dr. Prasad to determine the best procedure for you, submit the form below or call our Manhattan office at (646) 820-1980 or Garden City Long Island Office at (516) 535-9490. Our phones are open 24 Hours a Day / 7 Days a Week.