Sexy, Beautiful and Alluring – Exotic Eyes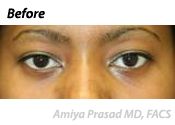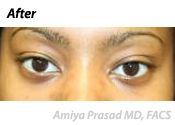 Almond eyes, or exotic eyes, are slightly turned up in the outer corners, making them beautifully balanced. This shape is soft and welcoming. Almond eyes are youthful, boasting confidence and splendor. Many men and women are blessed with natural almond eyes, but for those who are not, science may intervene.
Dr. Prasad's Procedure for Almond Eyes
Dr. Prasad's eyelid surgery procedure creates an extra crease in the upper eyelid. This opens up the eye and forms even and natural-looking almond eyes.  Dr. Prasad uses only the most up-to-date and state-of-the-art technology in all of his eyelift procedures. With virtually no swelling and minimal downtime, patients may resume normal everyday activities in no time.
Natural-Looking Almond Eyes
Your eyes say a lot about you – make sure yours are sending the right message. Dr. Prasad is the eye expert, performing flawless eyelid surgeries for over 15 years. His specialized experience and expertise allow him to create natural-looking exotic eyes without drastic changes to your appearance. Taking years off your face without the blatancy of surgery is Dr. Prasad's gift. Allow him to give you the perfect almond eyes you've always dreamed of, and experience what true beauty feels like.
Before making a decision, you really need a personal evaluation with New York eyelid surgery specialist Dr. Amiya Prasad to determine what is the most appropriate procedure(s) for your specific case.
Schedule An Appointment Today!
To schedule a consultation with Dr. Prasad to determine the best procedure for you, submit the form below or call our Manhattan office at (646) 820-1980 or Garden City Long Island Office at (516) 535-9490. Our phones are open 24 Hours a Day / 7 Days a Week.