What are the Modifications Necessary for Asian Blepharoplasty?
The Asian eyelid is different from the Caucasian eyelid in many ways, which is why Asian eyelid surgery (Asian blepharoplasty) is so unique. One of the most frequent mistakes that plastic surgeons have made is "Americanizing" or "Europeanizing" the eyelids. This results in a very unnatural appearance.
Dr. Prasad uses his expertise in eyelid surgery to provide Asian patients with naturally appearing eyelids. Asian individuals also often seek the "double eyelid fold" procedure, which gives the upper eyelid a visible crease when the eye is open. This change to the upper eyelid makes it easier to apply makeup and is considered to be a desirable aesthetic appearance in many Asian cultures.
Asian eyes require delicate finesse with the typical epicanthal fold that lies in front of the eye so that proper rejuvenation does not mar the natural beauty of this type of eye. Dr. Prasad is well-versed in Asian eyelid surgery and has performed blepharoplasty for many of his Asian patients who have requested it.
Before and After Photos: Asian Eyelid Surgery (Double Fold Eyelid)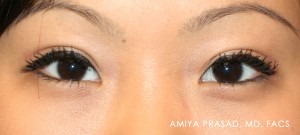 This 24 year Asian woman desired a crease or "double fold" for
her eyes. Dr. Prasad performed Asian eyelid surgery for her and
now she feels her eyes look more open.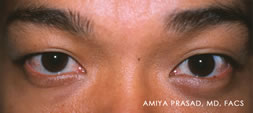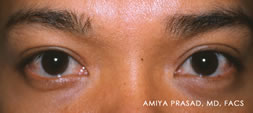 This young 25 year-old man had been saving up to
get the desired eyelid creases. He had partial
creases that he felt were a distraction from his appearance,
and he felt that we understood the subtlety of the look he was seeking.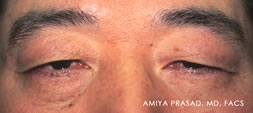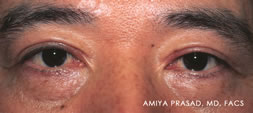 This 55 year-old Asian man had been bothered by
his lack of creases for years but chose not to do
anything about it. That was until his signs of aging caught
up with him, and his eyelids actually interfered with his
vision. He had lid creases and an upper eyelid lift done
by Dr. Amiya Prasad to improve his vision. He was not
bothered by the lower lid bags that he had. He felt that
they were appropriate for his appearance so he elected
to leave them alone.
What is different about Asian Eyelid Surgery or Asian Blepharoplasty?
Asian Eyelid Surgery requires the surgeon performing the procedure to have a thorough understanding of the anatomy of the eyes which make Korean, Chinese, Japanese and other Asians different from people of European, Asian Indian or African lineage. In fact, eyelid surgery is considerably more complex than most people appreciate. Ethnicity, age, gender and skin quality as well as general health need to be well integrated into developing a proper strategy. The Asian eyelid has some very important anatomical differences from non-Asian eyes.
Whether you are considering Korean eyelid surgery, Chinese eyelid surgery or Japanese eyelid surgery, the common desire is typically to have the eyes appear more open. Many of clients who travel from around the world to our offices in New York City's Upper Eastside actually come for revision surgery.
These surgeries are often referred to as Double Eyelid Surgery as approximately half of Asians have a "single fold" and half have a "double fold".  If you do research on the internet, you will many different styles and techniques for Asian Double Eyelid Surgery. Nonincisional procedures as well as incisional procedures or limited incisional procedures can be customized to your needs.
Creating a natural appearance in the Asian eyelid also must take into account the age and gender of the patient. It's critical to avoid removing too much skin or fat which is a common technical error made by surgeons less familiar with Asian eyes.  Proper surgery begins with a design which is drawn prior to the procedure. Many Asians who have had eyelid surgery they are not happy with have scars which go outside the natural crease and are difficult to manage.
What is the actual procedure for Asian Blepharoplasty or Asian Eyelid Surgery?
Dr. Prasad has provided an in-depth overview of Asian Double Eyelid Surgery, including surgical photos. Warning: The following link includes surgical photos which might be graphic for some. Please proceed at your own discretion to see the Asian Eyelid Surgery description and photos. Click here.
What is the healing process for Asian Eyelid Surgery?
With Dr. Amiya Prasad's quick recovery approach to Asian Eyelid Surgery, his patients experience minimal downtime, maximum gain and natural results. To learn more about healing after having Asian Double Fold Eyelid Surgery, Contact Dr. Prasad.
Schedule An Appointment Today!
To schedule a consultation with Dr. Prasad to determine the best procedure for you, submit the form below or call our Manhattan office at (646) 820-1980 or Garden City Long Island Office at (516) 535-9490. Our phones are open 24 Hours a Day / 7 Days a Week.