Enhance the Look of Your Eyes with Transconjunctival Laser Blepharoplasty
Transconjunctival blepharoplasty is a type of eyelift surgery often performed on people of ethnic backgrounds. It is used to remove the appearance of bags and loose skin under the eyes. These conditions are due to bulging fat deposits in the lower eyelids. Dr. Prasad uses transconjunctival laser blepharoplasty to remove, sculpt and reduce the fat. This procedure is internal, producing no outside scars and preserving the natural shape of the eye.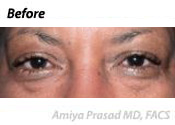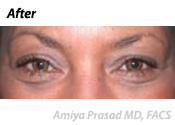 This 53 year old African-American female was accustomed to always
looking young for her age. She realized that at this stage in her life
she was wearing more makeup to hide rather than to enhance the
appearance of her eyes. Frustrated with applying makeup to hide the
bags under her eyes, she came to Dr. Prasad and underwent lower
eyelid transconjunctival blepharoplasty. She appreciated Dr. Prasad's
familiarity with the concerns of African-American people in terms of
scars and keloids. After having the surgery she was so pleased with
her results that she got colored contact lenses to draw more attention
to her eyes.
Dr. Prasad has been featured in several magazines and web sites focused on the unique needs of non-Caucasion cosmetic surgery patients, including World Journal and Chinese World TV. He has also made an appearance on Good Morning America demonstrating his surgical techniques and commenting on the globalization of beauty.
For more information on transconjunctival blepharoplasty and Dr. Prasad's general eyelift procedure, visit our page on eye surgery videos.
Dr. Prasad's Transconjunctival Blepharoplasty Procedure
Dr. Prasad performs transconjunctival blepharoplasty under local anesthesia, allowing a quicker recovery time. During the procedure, the lower eyelid is pulled away from the eye and swept with the laser. Along the length of the back-side of the eyelid, the fat tissue is destroyed. Dr. Prasad evaluates the results throughout the procedure to make sure that the appropriate amount of tissue is removed. In most cases, the skin under the eye will simply return to a more normal position. If needed, Dr. Prasad may also tighten any resulting loose skin after the fat is removed. This process does not usually require stitches, and downtime is minimal.
Advantages of Transconjunctival Blepharoplasty
Transconjunctival blepharoplasty offers many advantages. It allows you to enhance your natural appearance without the blatancy of surgery. Other advantages to Dr. Prasad's technique for transconjunctival laser blepharoplasty include:
    Precise fat sculpting
    Minimal swelling and bruising
    No risk to the eye
    No external scars
    Younger-looking eyes
    Minimal downtime
    Preservation of the middle layers of the eyelid
Schedule An Appointment Today!
To schedule a consultation with Dr. Prasad to determine the best procedure for you, submit the form below or call our Manhattan office at (646) 820-1980 or Garden City Long Island Office at (516) 535-9490. Our phones are open 24 Hours a Day / 7 Days a Week.