Your Eyes Tell Your Story
The eyes communicate so much about yourself. It's no secret that beauty begins with the eyes. While the eyes convey so much about beauty, health, and expression, they are also a very delicate area. Eyelid skin is the thinnest in the body, and attractiveness of the eyes can be measured in millimeters. Making the eyes look their best requires precision, a defined artistic sense, specialized training, and demonstrable experience.
New York Oculofacial Plastic Surgeon Dr. Amiya Prasad is recognized as one of America's best cosmetic surgeons who specializes in eyelid surgery. Dr. Prasad's artistic style to upper and lower eyelid surgery is all about natural appearance. With over two decades as an oculoplastic surgeon, Dr. Prasad has served patients from all over the world in his New York City locations: Manhattan's Upper East Side, and Garden City, Long Island.
Natural Appearance as a Surgical Style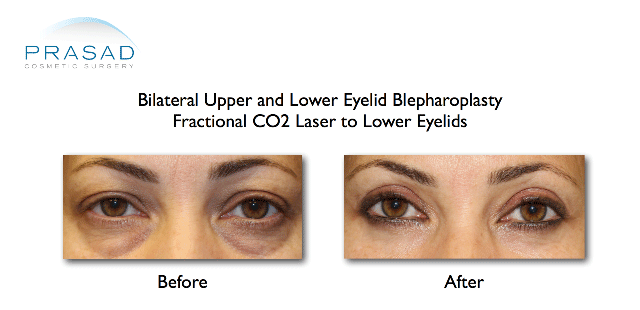 Dr. Prasad's patients are proud of their eyes looking great, with close friends and family being none the wiser that surgery was ever performed. The marks of great upper eyelid surgery are natural-looking eyes that are bright and vibrant, with no trace of scars, stitches, or too much skin being removed. Dr. Prasad's go-to approach for lower eyelid surgery for puffy under eye bags is transconjunctival blepharoplasty, an approach from the inside of the eyelid so no incisions are visible – it's a more complex procedure for the surgeon that preserves the delicate anatomy and leaves no trace of surgery.
Sought the World Over
As a leading Oculofacial/Oculoplastic surgeon in New York City, Dr. Prasad's reputation as an eyelift super-specialist has patients around the world seeking his artistic and natural style for their eyes. Dr. Prasad performs intricate ptosis correction surgery, a specialty of Oculofacial/Oculoplastic surgeons, for patients coming from around North America and across the globe. Patients dissatisfied with or suffering from complications of eyelid surgery done elsewhere make their way to New York City to have Dr. Prasad revise and repair past cosmetic eyelid surgeries.
Pioneering Expert in Ethnic Eyelid Procedures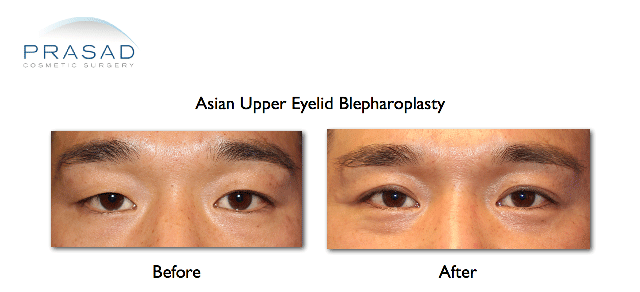 From early in his career, Dr. Prasad established methods of approaching ethnic anatomical characteristics in eyelid surgery. He is well known among the Tri-State and global Asian community for his results in Asian double eyelid surgery. Dr. Prasad is known to treat different skin types with custom approaches for those of African, Latin, Indian and Mediterranean descent.
Fast Recovery for Our Busy Lives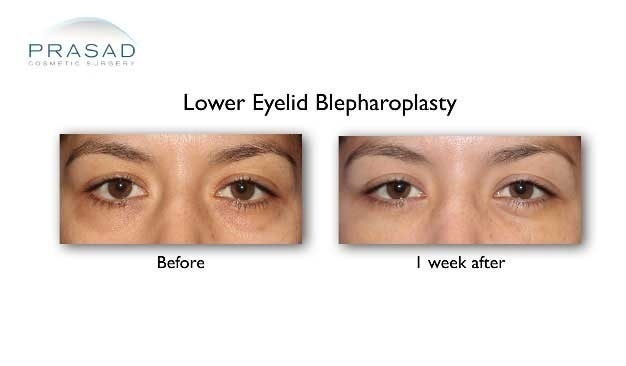 The desire to make eyes even more beautiful appeals to a broad scope of society, so Dr. Prasad envisioned early on that eyelid surgery should be performed without minimal impact on people's busy lives. Dr. Prasad strived to make the surgical experience as comfortable as a spa session. Dr. Prasad performs eyelid and other cosmetic surgeries in his Joint Commission-certified operating facilities in Manhattan, and Garden City, Long Island locations. Dr. Prasad exclusively uses local anesthesia with his patented LITE™ IV sedation so patients are conscious and relaxed during eyelid procedures. Local anesthesia consistently allows his patients to get back to their daily routine within a week of surgery.
To schedule a consultation with Dr. Prasad to determine the best procedure for you, submit the form below or call our Manhattan office at (646) 820-1980 or Garden City Long Island Office at (516) 535-9490. Our phones are open 24 Hours a Day / 7 Days a Week.
---