Transconjunctival Blepharoplasty
Rejuvenate Your Eyes with Transconjunctival Blepharoplasty
Transconjunctival blepharoplasty is a type of eye surgery often performed on people of ethnic backgrounds or with darker skin. It is used to remove the appearance of bags and loose skin under the eyes which occur due to excessive bulging fat deposits in the lower eyelids. By means of transconjunctival blepharoplasty, Oculoplastic surgeon Dr. Amiya Prasad is able to remove, sculpt and reduce these fat deposits internally, without producing any outside scars and preserving the natural shape of the eye.
Before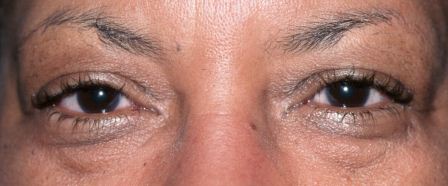 After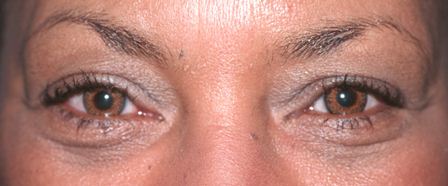 This 53-year old African-American female was accustomed to always looking young for her age. She realized that at this stage in her life she was wearing more makeup to hide rather than to enhance the appearance of her eyes. Frustrated with applying makeup to hide the bags under her eyes, she came to Dr. Prasad and underwent lower eyelid transconjunctival blepharoplasty. She appreciated Dr. Prasad's familiarity with the concerns of African-American people in terms of scars and keloids. After having the surgery she was so pleased with her results that she got colored contact lenses to draw more attention to her eyes.
Dr. Amiya Prasad's Transconjunctival Blepharoplasty Procedure
"True artists work with a myriad of pigments, blending a wide variety on a palette that is highly individualized, unique to each artist. Only a skilled portrait painter can effectively capture the brilliancy, transparency and wide variables that reflect the subject's skin tone. The same can be said of a skilled surgeon; each identifies which technique will best rejuvenate a patient's eyes."

Dr. Amiya Prasad, The Fine Art of Looking Younger
It is important to note that there is no single technique or treatment approach that can be applied to everyone, while consistently yielding the best results. According to Dr. Prasad, "I have found that true artistry comes from mastering the various surgical options and then deciding how to execute a particular technique so that the balance of the face is preserved."
Dr. Prasad performs transconjunctival blepharoplasty under local anesthesia, allowing a quicker recovery period. During the procedure, the lower eyelid is pulled away from the eye and swept with the laser. Along the length of the back-side of the eyelid, the fat tissue is destroyed. Because the eyelid is still intact on the outside, Dr. Prasad is able to accurately gauge and evaluate how much fat should be removed and what effect it has on the appearance of the eye as the surgery is in progress. In most cases, the skin under the eye will simply return to a more normal position after the procedure is done, but if need be, Dr. Prasad may also tighten any resulting loose skin after the fat is removed. This process does not usually require stitches, and downtime is minimal.
Advantages of Transconjunctival Blepharoplasty
Transconjunctival blepharoplasty offers many advantages, one of these being that it allows you to enhance your natural appearance without the blatancy of surgery.
Other advantages to Dr. Prasad's individualized technique for transconjunctival blepharoplasty include the following:
Precise fat sculpting
Minimal swelling and bruising
No external scars
Younger-looking eyes
Minimal downtime
Preservation of the natural shape of the eye
Preservation of the middle layers of the eyelid
No risk or trauma to the eye or the fragile support structures surround the eye
Dr. Amiya Prasad has been featured in several magazines and web sites focused on the unique needs of non-Caucasian cosmetic surgery patients, including World Journal and Chinese World TV. He has also made an appearance on Good Morning America wherein he demonstrated his surgical techniques and offered a commentary on the globalization of beauty.
For more information on transconjunctival blepharoplasty and Dr. Prasad's general eyelift procedure, visit our Eye Surgery Portfolio.
Find out why so many people are turning to Oculofacial plastic surgeon Dr. Amiya Prasad for ethnic eye plastic surgery. For more information about plastic surgery for African Americans or our other eyelift services, visit our FAQ page or feel free to contact us. We would be happy to answer any questions you. Before making a decision, please consider having a personal evaluation with New York eyelid surgery specialist and Oculoplastic surgeon Dr. Amiya Prasad to determine what is the most appropriate procedure(s) for your specific case.