Blepharoplasty (Eye Lift) Revision Surgery, New York
The need for plastic surgery repair to address eyelid surgery problems is occurring more often nowadays. These common problems from blepharoplasty stem from an increase in aggressive marketing tactics by so-called "experts" and companies offering cheap plastic surgery to desperate, unknowing clients.
When choosing a plastic surgeon for your eyelid surgery, it is extremely important that you take the extra effort to do the research needed in order to find the most suitable doctor who you can trust to give you the results you want.
It is also important to know that a finely attuned artistic sense, as well as a deep understanding of the function of the eyelids in relation to the eyes, is absolutely necessary when it comes to eye surgery, simply because of the delicacy of its structure and makeup.
Best Eye lift Revision Surgery of NYC
Dr. Amiya Prasad's prior training as an eye microsurgeon has given him a thorough knowledge and understanding of the complexity of the eyelid, as well as its intimate relationship with the eye. Many surgeons tend to add this type of procedure to their "armamentarium" of services because they mistakenly believe that eye lift surgery is simple.
However, although eye lift surgery is popular, it is far from simple. As a board-certified Ocuplastic surgeon, Dr. Prasad is one of the few practitioners who understand this. A highly respected expert in the field, Dr. Prasad is often sought after by other surgeons for many complex, medical procedures involving the eyelid and orbit, due to his commendable experience, expertise, artistry, technical skills and commitment to his craft.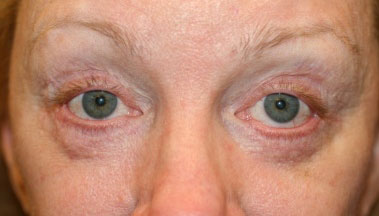 This 45-year old woman underwent eyelid surgery performed by another surgeon and developed eyelid retraction causing exposure of the eyes. She came to Dr. Prasad to have reconstructive eye lift surgery to correct this problem.
Revision Blepharoplasty Procedures by Dr. Amiya Prasad
Dr. Prasad has been sought after by numerous patients and surgeons for various revision surgery procedures including:
Medical reconstruction procedures
Reconstructive repair after trauma or cancer
Eyelift revisions for unsatisfactory results
Eyelid lesion removal
Mohs' surgery melanoma repair of the eyelid
Cosmetic eyelid surgery after burns
Reviews for Dr. Prasad's Blepharoplasty Revision Surgery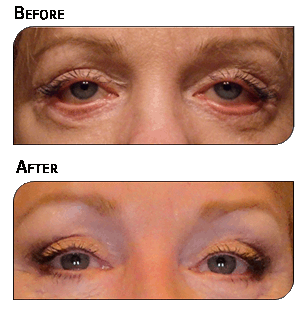 Dear Dr. Prasad,
I wanted to send you a note because it has been some time since you last saw me. I can't even begin to thank you enough for what you have done for me; you gave me back my life.
After the initial surgeon messed my eyes up so badly I thought I would become a recluse, never leaving my home and getting more and more depressed. One never knows how important our looks are until something happens to make us feel disfigured and depression does not easily go away even after the reasons for it have been deleted or corrected as in this case.
It takes a while to get the old image out of our thoughts and to let the new one surface and now I am beginning to feel like my old self again and I owe all the credit to you in getting me back to "me". I know my case wasn't an easy one but you stood by me and continued the battle to correct the damage that was done to me by an inferior surgeon.
To me, you are truly a gifted man with a heart of gold; you really care about your patients and you will always have a spot in my heart. My husband also thinks very highly of you and thanks you and your staff for all that you did.
Thank you so much.
G.D.
---
Dear Dr. Prasad and Staff,
I am deeply grateful for the expertise, patience and compassion I've experienced with you over the past year. A series of incompetent doctors and poor surgical outcomes left me physically damaged and emotionally destroyed. Each subsequent doctor that I had trusted to correct a poorly done lower eyelid procedure had compounded the problem further.
By the time I found you, I really wasn't sure if I could be "fixed". Everything you said during our first consultation made sense. You offered me a solution that had not been proposed by any of the 5 or 6 surgeons previously. The corrections you have done to restore a normal and natural appearance to my eyes and face are remarkable.
You are incredibly skilled and talented. Your well chosen staff is an excellent compliment to you. Sweet, warm and competent at their respective responsibilities. Your office is one of comfort, compassion and competence.
Thank you for giving me my life back.
Sincerely, I.M.
Before making a decision, please consider having a personal evaluation with New York eyelid surgery specialist and Oculoplastic surgeon Dr. Amiya Prasad to determine what is the most appropriate procedure(s) for your specific case. To schedule a consultation with Dr. Prasad please fill up the form below or call our offices at (212) 265-8877 for Manhattan, NYC office or (516) 742-4636 for Garden City, Long Island office.