What is SELPHYL® ?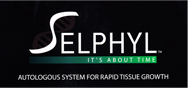 SELPHYL® is a patented system designed for the safe and rapid preparation of Platelet Rich Fibrin Matrix (PRFM), a proven technology that Oculoplastic surgeon Dr. Amiya Prasad uses to correct the effects of skin aging. The Selphyl system converts the liquid platelet-rich plasma (PRP) into a gel-like matrix and serves as a sturdy scaffolding that keeps in the platelets on the site of the injection.
How does SELPHYL® work?
The PRFM that is prepared with SELPHYL® is autologous, which means that it uses your natural biology. Platelets are known to contain characteristics which your body uses to trigger cell migration and proliferation to rejuvenate and increase skin volume.
Dr. Prasad collects a small volume of blood from the patient and, through a patented process, separates and concentrates the patient's own platelets and fibrinogen into a matrix. The resulting PRFM is then applied to a treatment area on the face or body, in order to stimulate cell proliferation. This, in turn, promotes the increase of volume and rejuvenation of the skin through a process of targeted tissue regeneration.
SELPHYL® Treatment
SELPHYL® is shown to restore volume for more than 12 months in the following areas with visible results noted in 3 weeks by patients and physicians:

Upper Face
Glabella Line
Forehead Area
Middle Face
Periorbital Lines
Cheek Augmentation
Nasolabial Folds
Smile Lines
Acne Scars
Lower Face
Vermillion Border
Marionette Lines/ Smile Lines
Chin Augmentation
Results
As soon as SELPHYL®-prepared PRFM is administered, growth factors are released directly into the skin through a sustained mechanism. In vitro studies have shown that platelet growth factors are released for up to 7 days, supporting collagen production and dermal matrix reconstruction, and is thought to treat the root cause of skin aging by triggering the production of new cells and collagen. Pronounced effects occur approximately three weeks after the administration of SELPHYL®. Patients have enjoyed visible improvement and regeneration with long lasting effects.
How SELPHYL Corrects Wrinkles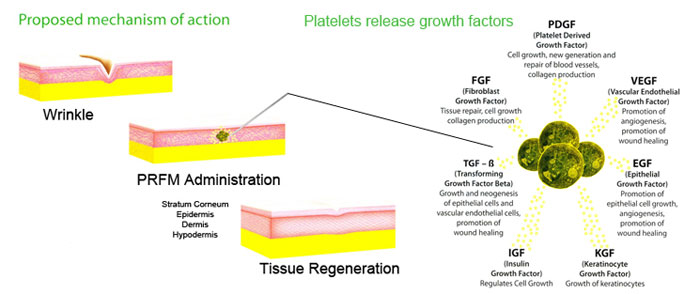 Injections
SELPHYL® takes approximately 20-30 minutes to administer, and desired results may be achieved after just one session, provided that you have an experienced professional to administer the product. SELPHYL® is not a painful procedure, as it is known to have close to physiologic pH.
Side Effects
Patients may experience minor discomfort during the injection, as well as redness and bruising afterwards. These side effects usually disappear soon after the procedure.
Learn More About SELPHYL®
For more information about SELPHYL® Platelet-Rich Fibrin Matrix (PRFM), download the SELPHYL® brochure here. Before making a decision, consider having a personal evaluation with New York eyelid surgery specialist and Oculoplastic surgeon Dr. Amiya Prasad to determine what is the most appropriate procedure(s) for your specific case. You may call us at (212) 265-8877 for Manhattan, New York City office or (516) 742-4636 for Garden City, Long Island New York office. You may also fill up the contact form below and we will get back to you as soon as we can.