Transconjunctival Blepharoplasty: Plastic Surgery for African Americans
People with darkly pigmented skin or with firm elastic skin are candidates for a type of ethnic eye plastic surgery called transconjunctival blepharoplasty. As a specialist in cosmetic eyelift surgery, Dr. Prasad has performed plastic surgery for African Americans as well as all ethnic backgrounds.
Why Ethnic Eye Plastic Surgery Deserves Special Attention
People of color tend to form keloids, which are scars that are thick and large. These large scars are seen behind the earlobes of some people after they get their ears pierced. Fortunately, keloids are very rare in properly performed ethnic eye plastic surgery. Dr. Prasad uses very fine instruments, lasers and radiofrequency wave procedures to minimize the risk of keloids after surgery.
Dr. Prasad: The Expert in Ethnic Eye Plastic Surgery
Dr. Prasad has been featured in several magazines and web sites focused on the unique needs of non-Caucasian cosmetic surgery patients, including World Journal and Chinese World TV. He has also made an appearance on Good Morning America demonstrating his surgical techniques and commenting on the globalization of beauty.
For more information on ethnic eye plastic surgery for African Americans and Dr. Prasad's general eyelift procedure, visit our page on eye surgery videos.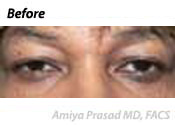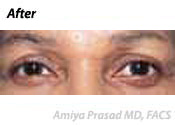 This 38 year old African-American woman was concerned that
the heaviness of her upper eyelids made her look angry. She
was very concerned about the possibility of having keloids
from surgery. Dr. Prasad, who is very experienced with most
ethnic skin types, performed a bilateral upper eyelid blepharoplasty
using sutures and a suturing technique to minimize potential scars.
She was very happy to have her eyes more open and appear more friendly.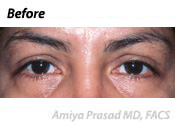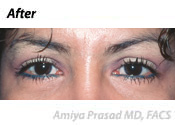 This 28 year old woman who traveled from the Dominican Republic
complained that she was tired of looking tired. She had tried
lotions and potions from all over the world, spending as much as
$400 for a vial of "serum". Dr. Prasad explained that her puffiness was
due to fat around her eyes that had pushed forward. She
successfully underwent bilateral lower eyelid transconjunctival blepharoplasty at the office operating facility under local anethesia.
She returned home feeling her eyes were brighter and more attractive.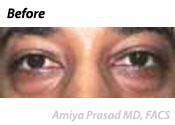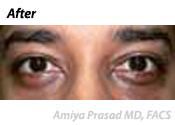 This 37 year old African-American male was frustrated with people
teasing him for having bags under his eyes. He stated that no
matter how much sleep he had, he still could not get rid of the
bags. He was planning to get married within a year and wanted
to look good for his wedding pictures. He underwent bilateral lower
eyelid transconjunctival blepharoplasty which left him no external
scars. He was very happy with the results.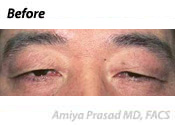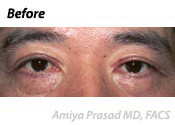 This 57 year old Korean man was concerned that his upper eyelids
were starting to effect his ability to see. He had deferred having
upper eyelid surgery for many years, in fear that he would look "westernized".
Dr. Prasad, who has extensive experience with Asian eyelid surgery,
assured him that he would see better and look natural. He underwent
bilateral upper eyelid Asian blepharoplasty and was very happy with the results.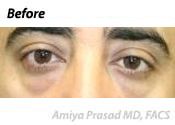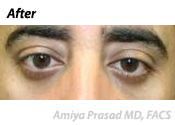 This 37 year old man travels extensively for business. It was important
to him to have his surgery look natural and not interrupt his work. He
had his lower eyelid transconjunctival blepharoplasty on Thursday
and was able to fly out for business by Sunday.
Find out why so many people are turning to Dr. Prasad for ethnic eye plastic surgery. For more information about plastic surgery for African Americans or our other eyelift services, visit our FAQs or feel free to contact us. We will be happy to answer any questions you.
Before making a decision, you really need a personal evaluation with New York eyelid surgery specialist Dr. Amiya Prasad to determine what is the most appropriate procedure(s) for your specific case.
Schedule An Appointment Today!
To schedule a consultation with Dr. Prasad to determine the best procedure for you, submit the form below or call our Manhattan office at (646) 820-1980 or Garden City Long Island Office at (516) 535-9490. Our phones are open 24 Hours a Day / 7 Days a Week.