Dr. Prasad Offers Non-Surgical Eye Lift Options for:
Hollow Eyes – Hollowing in the upper or lower eyelids may develop as a result of aging or previous eye lift surgery. Non-surgical eye lift options by Dr. Prasad are a good choice for patients who experience hollow eyes. Dr. Prasad uses Juvederm®, Restylane®, Captique®, Radiesse® and autologous fat (the patient's own fat) to enhance the contour of the lids so that the face appears rejuvenated.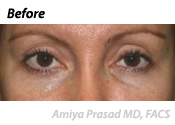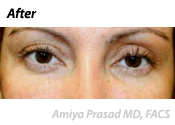 This 28 year old woman was very distressed that her under eye
area looked very hollow. She realized that this was a trait that ran in
her family and she wanted to have her eyes look better. Dr. Prasad
performed a non-surgical eye lift by the precise placement of
Juvederm in the area of the lower eyelid/cheek junction and tear
trough. Procedures such as this are growing in popularity thanks to
modern fillers, however it is very important to understand that
precision and protection of the eye are extremely important.
Deep Wrinkles
Crow's feet and deep wrinkles at the corners of the eyes can detract from a refreshed appearance of the eyes. These wrinkles are caused by muscle movement. Botox and laser therapy are non-surgical eye lift options that can smooth out these lines and give a rejuvenated glow to the face.
Fine Wrinkles
Fine lines are found under the eyelids and are an example of static wrinkles that develop as a result of skin that is aging, sun-damaged, or affected from smoking or stress. These types of wrinkles are best treated by lasers and chemical peels. Dr. Prasad frequently performs non-surgical eye lift procedures for patients who want to refine the look of their eyes. Click here to learn more about laser therapy for wrinkles.
Non-Surgical Skin Tightening
Dr. Prasad can help patients with periorbital rhytids, better known as "crow's feet". Wrinkles around the eyes can be diminished in less than an hour, without surgery, without pain, and without downtime using the new Pellevé Skin Tightening & Wrinkle Reduction system. Pellevé procedure also boosts collagen production and can be applied to the entire face and neck.
Natural Filler
Dr. Prasad has been using the Selphyl Platelet-Rich Fibrin Matrix [also known as Platelet Rich Plasma (PRP)] injections to enhance and restore the skin of the face and neck. Platelet Rich Plasma contains growth factors which stimulate your body to repair and restore tissues using your body's own natural processes. Since Platelet rich plasma comes from the patient's own blood cells, it is safe and non-allergenic method to injectable rejuvenation. Read more about Selphyl PRFM.
Before making a decision, you really need a personal evaluation with New York eyelid surgery specialist Dr. Amiya Prasad to determine what is the most appropriate procedure(s) for your specific case.
Schedule An Appointment Today!
To schedule a consultation with Dr. Prasad to determine the best procedure for you, submit the form below or call our Manhattan office at (646) 820-1980 or Garden City Long Island Office at (516) 535-9490. Our phones are open 24 Hours a Day / 7 Days a Week.