Non-Surgical Options: Laser Treatment for Wrinkles
Fine lines and wrinkles can now be comfortably treated with the most modern laser therapy for wrinkles available. Dr. Prasad uses only the most state-of-the-art erbium lasers, which allow his clients to heal faster than ever. No longer do people have to deal with unpleasant redness and long periods of healing thanks to Dr. Prasad's innovative laser treatment for wrinkles.
Modern laser therapy for wrinkles combined with artistic techniques dramatically improves the texture and smoothness of the skin around the eyes and face. Patients may usually return to normal activities within one week after laser therapy for wrinkles, and the appearance continues to improve with time.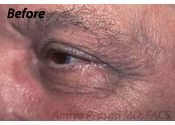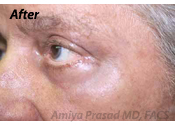 This 58 year old man enjoyed sailing his boat and did not wear sunblock.
He was concerned that the wrinkles around his eyes were becoming deep
and bothersome. He underwent Erbium laser skin resurfacing in addition
to his cosmetic eyelid surgery, giving his eyes a smoother, less wrinkled
appearance. It is common to have laser skin resurfacing around the eyes
to enhance the results of cosmetic eyelid surgery.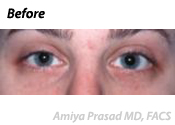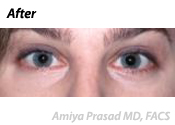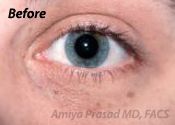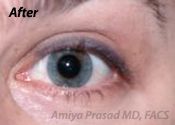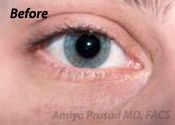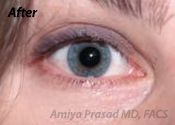 This 35 year old woman was very concerned about the dark circles
under her eyes, which appeared to be the result of sun exposure
causing discolorations. Although she was diligent about using sunblock,
she did not usually apply anything to her eyes. To treat the discolorations,
she had Erbium laser skin resurfacing, which resulted in her having
lighter and smoother skin under her eyes.
Schedule An Appointment Today!
To schedule a consultation with Dr. Prasad to determine the best procedure for you, submit the form below or call our Manhattan office at (646) 820-1980 or Garden City Long Island Office at (516) 535-9490. Our phones are open 24 Hours a Day / 7 Days a Week.